Tale of RootJack: Part 4
Captain Astrea Valentine renamed her ship the Matanza, and set sail. While she would turn to piracy as the opportunities arrived, she found that there was profit to be made in the Triangle of Trade: Sugar Cane for Oranges for Wenches.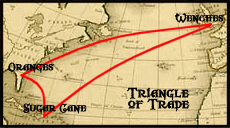 Captain Valentine would ruthlessly defend her ship and her crew, but she also found other pirates were more interested in trade in order to get their hands on the VooDoo elixir, now known as RootJack by many, that kept the sailors in such good spirits.